Nosara Ocean View Lands And Lots For Sale – Our Top Choice
Looking for ocean view lands for sale in Nosara? You've come to the right place!
We have 25 years of experience in Nosara and deep knowledge of the Nosara area. We verify every real estate listing, so you can rest reassured that the lot is a good and legal one with the updating info, the correct price, and the correct size.
Nosara had become one of the most popular places to visit and live in Costa Rica. It's has a truly amazing ambiance that has made it the number one place to live, plus it the hot spot for expats from US, Canada and Europe with the desire to dial back to a simpler healthier lifestyle. Nosara is internationally known as a popular location for surfers and yogis, but there is so!! much more to do! The rich biodiversity, the thriving diverse culture, the pristine beaches and its incredible community make it the ideal place for families and singles.                    
In this article, we have selected the best ocean view lands for sale in Nosara, Costa Rica. Whether you're looking for land to build a vacation house or maybe thinking to move your family to Nosara, this selection of ocean view lots has perfect locations with panoramic open ocean views.
Start living in the NOW!! Don't wait to make your dream come true!
Check out these ocean view land for sale available today:
D-9F – GREAT LOT WITH AMAZING OCEAN VIEW
$259,000
With an amazing ocean view, this lot is encompassed by nature and wildlife while still having easy access to the main road. It is a 5 minutes drive from Guiones and 10 minutes from Playa Pelada. The lot has access from both above and from below the property. It has already been cut into three terraces, allowing plenty of construction space.
Looking for more options, no problem! Our team has created a real estate directory website realestate.nosara.com with the most complete database of the properties and land for sale in the Nosara area, beachfront, ocean view, and jungle real estate available. We are the only one in Nosara to have the most extensive interactive map of all the listings through our Nosara real estate map. Every lot is presented on the interactive map.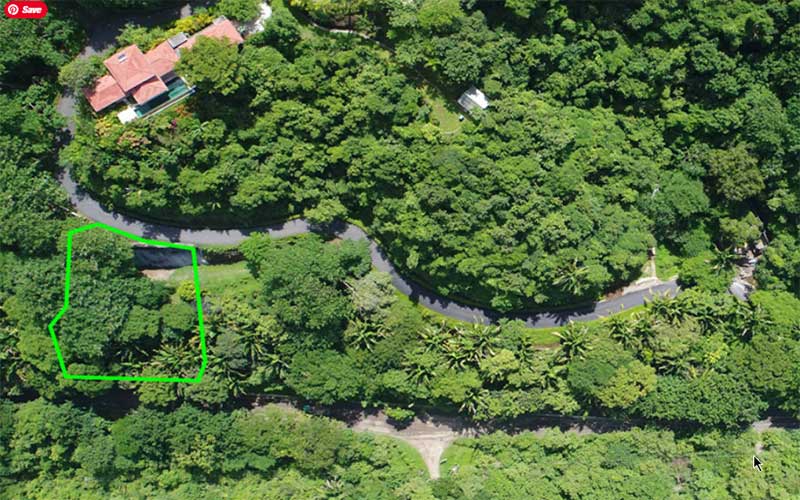 AV-38 – GENTLY SLOPED SLOT WITH PANORAMIC VIEW
$100,000
This gently sloped lot sits amid prime forest at the end of an elevated cul-de-sac in the Alma Verde project and is priced to sell. In addition to panoramic views south west along the coast of the Nicoya peninsular, this lot also overlooks a portion of route 160. Only a ten minute drive to playa guiones and a five minute drive to playa garza this lot is off the beaten path yet features easy access to all the conveniences that the local town has to offer. For the right buyer it offers the perfect place to build a family home from which to enjoy tranquil views interrupted only by the sound of the monkeys and the birds.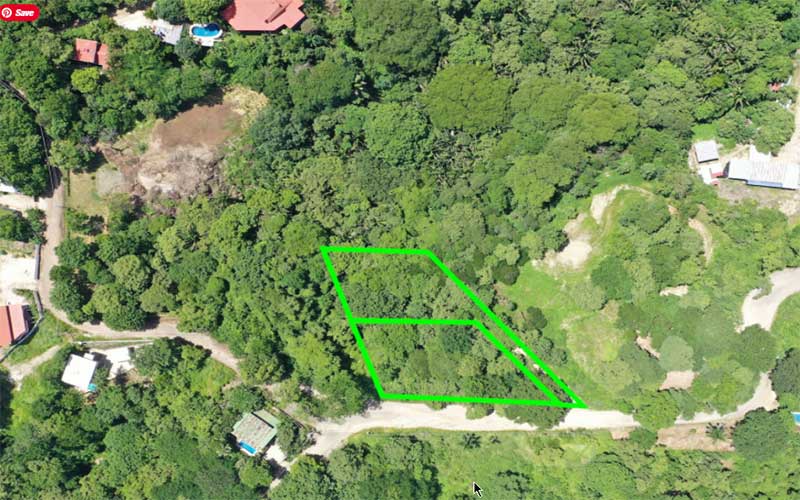 A-114 – Pelada Ocean View Property
$249,000
Imagine yourself sitting on the back porch of your modern jungle bungalow with monkeys and birds in your back yard and a 180 degree view of the ocean through the trees. Either way you will have a slice of paradise to build the vacation home of your dreams. Walk to the secluded north beach entrance of Playa Pelada or to the Nosara River mouth to swim, paddle board and fish. Lagarta Lodge is also just down the street and has one of the best restaurant & bar in Pelada. You can also enjoy yoga classes and their amazing hiking trails through the mangroves. For additional information on these one of a kind lots please do not hesitate to contract Jim Ewing at jim@surfingnosara.com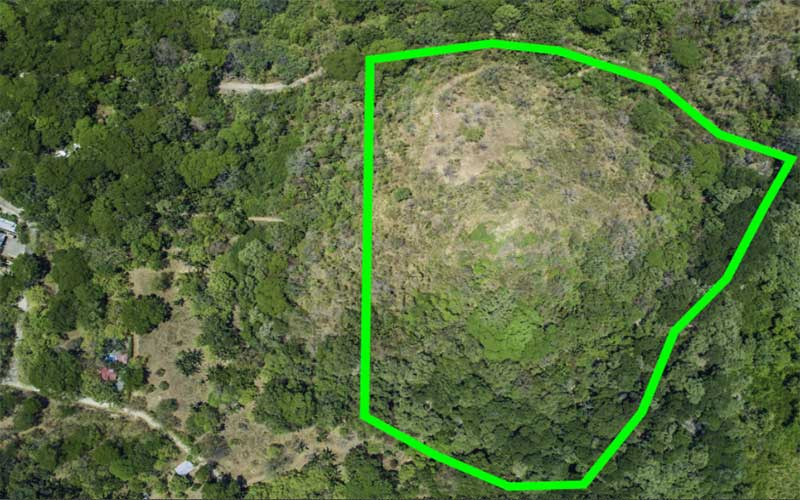 R-6 – 14 Acres, Price Drop!!
$1,100,000
Huge Price Drop!! Fire Sale!! One of the few large ocean view properties remaining in Nosara. Surrounded by refuge, enjoy a leisurely walk along a private path to the Nosara River and only a few more steps up the hillside trail and you are at the Lagarta Lodge for dinner and drinks. For the surfer, the Playa Nosara remote surf break is just a short paddle across the Nosara River. The now famous Playa Guiones is also a short 5 minute car ride. For the horse lovers, the property is just down the street from Playa Ponys, a local business specializing in the Nosara horse trail experience. This amazing large piece of property awaits someone with the vision to develop it as a magical ocean view multiple lot development or an expansive boutique hotel site. There are many amazing large old canopy trees and mangroves throughout the property supporting some of the most diverse wild life in the world. Pricing on this property is the best value in Nosara at $20/m2 when properties in Playa Pelada are selling in the $50 – $300/m2 range. Plenty of room for profitability for buyer's who have a vision and an amazing deal for someone who wants a large piece of property in the Nosara Area with access to our beautiful beaches, Nosara River, local restaurants, amenities and shops. For more information on this incredible opportunity please don't hesitate to contact Jim Ewing at jim@surfingnosara.com.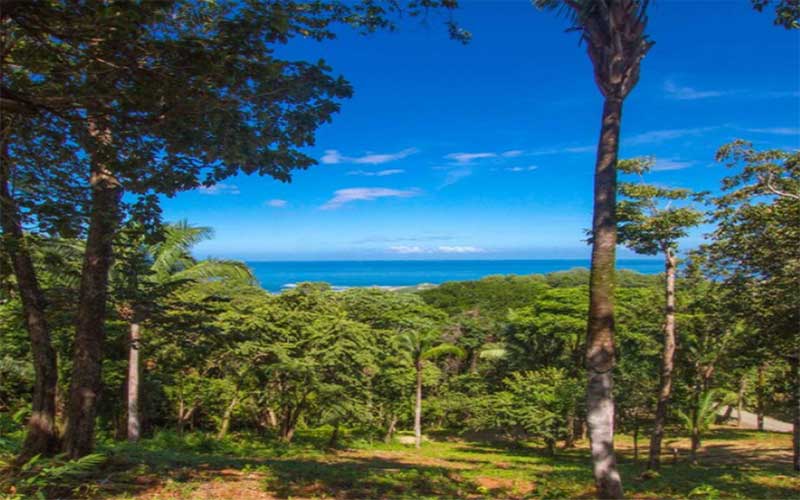 EE-11B – Big Las Huacas Property with stunning Ocean and Mountain views
$689,000
Big property with some of the best ocean- and mountain valley views in Las Huacas. Properties like this are hard to come by these days in the highly requested Las Huacas community/EE-section. Especially the ones with a view of this magnitude. The big lots are located on one of the highest hilltops close to the beach providing mountain valley view on one side and ocean view on the other. You can see Playa Guiones and Playa Pelada all the way up to Playa Nosara, Ostional and San Juanillo. Las Huacas is a popular area with a thriving hillside community. It has a 24-hour roving security guard, the internal roads are currently being paved providing an easy and quick drive to the beach while still enjoying the incredible views. The property has matured canopy providing shades and good opportunities for dramatic landscaping and home designs.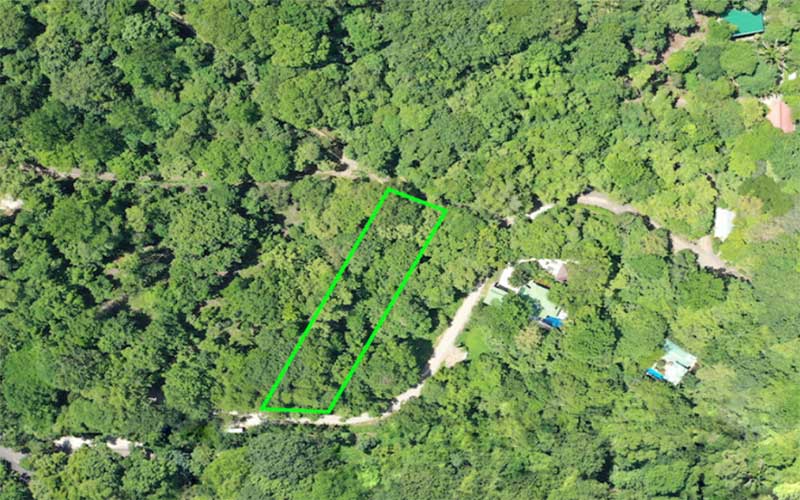 A-35B – Beautiful Ocean View Lot
$349,000
This lot is located in the beautiful area of Playa Pelada and it has ocean views on the top of it !